The long term purpose of SVII is to evolve deployable innovation teams to address innovation problems. SVII actively bridges vetted innovators and innovation advocates together with those who need them.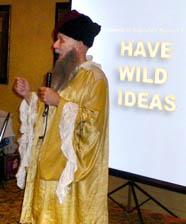 While not all budget wielding executives and leaders have an innovation rolodex, SVII continues to create a large and unique one.  The Silicon Valley is perhaps one of the best places to commence the aggregation of innovation skills, voices and practices, and SVII has been doing this formally as an organization since 2005.  In addition, its knowledge network members have been doing it for their entire professional lives.  In aggregate, this network of networks comprises a unique innovation brain trust.
On every first Wednesday of the month, an individual or panel who has succeeded at causing innovation to occur engages a subset of our group in a potent interactive dialogue.  The format for each month may vary, and the direction of the evening is molded by our unique attendees, but in the end, we are always moving together towards the goal of gathering a deployable innovation force capable of solving really gnarly problems.
"Simplicity is the ultimate sophistication."
~Leonardo da Vinci (1452–1519)
Italian painter, sculptor and inventor