With the announcement of the upcoming lecture series and it's topic of the power and effects of changing business models through the use of various mediums, the short program discussed creative professionals being underpaid due to their general excitement for their work.
Using the Arts as Social Architecture
December 2nd, 2014
Angelica's Restaurant
863 Main Street, Redwood City, CA
December's gathering introduces the 2015 season innovation theme; Human Potential and Innovation. The 2015 series of programs will explore the power and rippling effects of changing models through arts, sciences, business and technology, and the resulting effects that may be possible in society as a result.
The December short program explores a Work in Progress. Artists, writers, musicians and other creative professionals in nontechnical areas are frequently undervalued in terms of financial compensation — in part because their passion for their work allows them to accept less.
The Berkshire Columbia Musicians Collaborative (BCMC) is currently in the process of implementing a social architecture which exemplifies how changing models alter both how to invest our energy and the results we can achieve in our lives.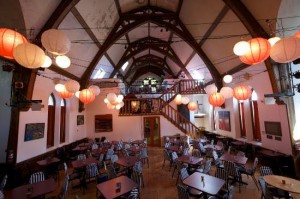 Concepts of "innate ability" limit people. Skills and talents are innate in the human mind, but must be developed and put to work. Self talk changes perceptions of self. Questions such as "how good a painter were you when you were 4?" and statements like "I'm not good at xxx" change the way we operate and how we create meaning and "MeaningPlace."
Innovation is not something you "have" (it's developed, learned, and unfortunately, too often "un-learned").
Next events at Angelica's Restaurant, 863 Main Street, Redwood City CA.
Appetizers provided. No host dinner & drinks available.
Pre-Registration Tickets ($15)  – On SALE Now!