The focus was on the creation of a Green Community Center in North Fair Oaks, CA. Activist architect Morton Frank presented a social venture to manufacture green certified, prefabricated housing units, onsite, in the community and for the community. An additional group of housing innovators lead a discussion on how to change livable to space in order to suit the environment.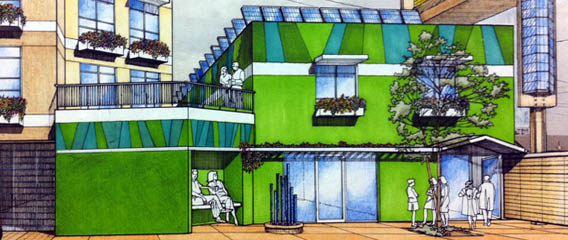 The is aim to demonstrate a scalable model of neighborhood improvement through energy efficiency.
Elements of this multifaceted vision include: creating livable and eco-friendly low income housing, green jobs training, energy efficiency, renewable energy generation, community communications infrastructure, and bridging socio-economic divides in Silicon Valley.
Three SVII'ers served as "lenses" to guide the group dialog:
David Allen Foster – Mutlifarious Designer & Parallel Entrepreneur
Gary Shamshonian – Corporate Green Building Champion
Bill Veltrop – Architect of Generative Change